One of the best things about being married is the opportunity to sweep together. I dare say that for me and Jerry it is probably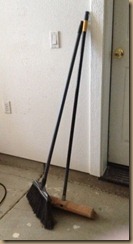 one of the most intimate things we do.
Last month we were clearing out construction debris in the in-law unit of our Nevada house and naturally we ended the activity by sweeping. It was great. Jerry grabbed a broom, I had a dustpan and together we worked to get the floor swept clean. Jerry would brush sawdust into a big pile and I would scoop it up with the dustpan. While I was depositing it into the trash bag Jerry would brush the remaining debris into another pile for round two.
As we progressed to other sections of the room where the debris was heavier we naturally switched places and I took the broom while Jerry held the dustpan. Little words were said while we focused on the moment and the work.
At one point we both had brooms, each sweeping our different end of the room, but eventually we came back together, combining our piles in to a single one, Jerry holding the dustpan, repositioning it at the end of the line of dirt made by the edge while I filled it.
We really should sweep together more often.
Lest you think I've turned this blog into a Meg Cabot fan site, and because it's right at my personal Happy New Year cut off date of January 15th, I thought I'd give a recap of other things I did this past year.
We started January 2013 with brand new stucco on the Nevada house but only a partially built deck.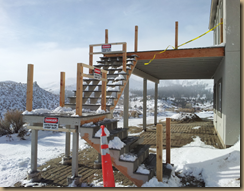 We spent the next several months filing claims with the Nevada State Contractors Board and waiting for our contractor to surface from wherever he disappeared to. Work finally commenced again in April.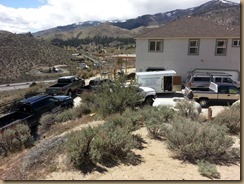 By August we finally had a completed deck that was up to code.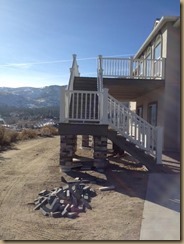 The next big project will be to get the in-law unit in habitable condition.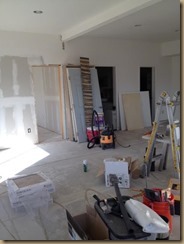 October saw me and Jerry married for 10 whole years! We celebrated the milestone pretty quietly since we had big plans for later in the month. And what were those big plans? Why Nevada Day of course!
Jerry has declared Nevada Day his favorite holiday and as such we are bound to keep the day open and sacred from here on out. I don't think any state in America celebrates their admission day like Nevada.
We started the festivities on a Thursday night by attending Governor Sanchez's 4th Annual Nevada Day ball at the Grand Sierra Resort in Reno. The highlight of the evening was meeting another distinguished government official, President of Molassia, His Excellency Kevin Baugh.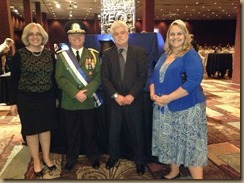 Molassia, is a small country (ie: a micro nation) located on a 1.6 acre piece of property in Dayton Nevada.
Saturday morning the celebration continued with the Carson City Republican Women's Pancake Breakfast at the Governor's Mansion. The governor himself was there pouring coffee!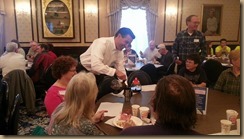 After breakfast we secured a spot for the parade. In the land of gambling, 24 hour buffets, legal prostitution, guns and Republicans (the voting power of Las Vegas is not even acknowledged) there are a lot of floats to accommodate. I'm pretty sure it went on for 4 or more hours.
With the fun of Nevada Day under our belt we raced home for our next celebration, my parent's 50th Wedding Anniversary. I spent most of the summer planning this party with my parents. I had the invitations out by Labor Day and a month later I found out the restaurant we had reserved went out of business after 20 years! This is exactly the type of thing that makes me stress over and hate party planning.
I spent a few frantic days looking for another restaurant to host the party and ended up at Terra Mia in Livermore. The food was great, the service fantastic and a good time was had by all.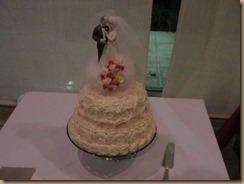 Turns out the anniversary party was our big family event for the year with the added bonus of back east relatives. Thanksgiving and Christmas were quiet (but tasty) affairs with just me and Jerry and Mom and Dad.
New Years was spent at The House in Carson City where those gun totin' Nevadans made sure we were awake at midnight.
Meg Cabot often talks about how when she was a child she used to spend summers reading in her local air conditioned library. I used to do the same thing and as a result have developed a lifelong love affair with libraries.
Lately one of my favorite activities is to hang out at the Castro Valley Public Library. It is a great place to work on my telecommute days. I sit at a table in the back, log on to the wireless internet and work quietly surrounded by a bunch of other people doing the same thing. It's great! It's like working in a coffee shop but without all the noise and attitude.
Today while I was there a group of noisy children walked in. The kids appeared to be accompanied by a few adults whose main concern was that they all be quiet. Who the hell were these people, I wondered, and why did they bring this group of rowdy children to the library? I glanced up and saw a group of kids sitting in a line of chairs next to the table I sat at. Some of them had books with them and a few were even trying to read. All of them were clearly wishing they were someplace else.
The girl sitting closest to me caught my attention especially. She was bigger than all the others, sitting amongst the boys and even though she was dressed in a pink outfit, I got the feeling she was probably not very comfortable hanging out with girls. She had a weird looking, oversized, spiral bound book, something she probably pulled down because it didn't look like all the others. It was also closed and my guess was she had no intention of reading it.
Distraction suddenly turned into obsession with these children and the big girl especially. I could tell she was brought here to read and I felt an overwhelming desire to help her.  I leaned over and looked her in the eye. "How old are you?" I whispered.
"12."
"Keep an eye on my computer," I said. "I'll be right back."
I got up, walked over to the teen section of the stacks and started looking at the Meg Cabot collection. Volume One of The Princess Diaries wasn't there but some of the other books from the series were. I grabbed a copy of Princess in Waiting as well as Shadowland from The Mediator series and Jinx. I then went over to the young man who appeared to be in charge of the group. "Excuse me," I said, "I was wondering if it would be OK for me to recommend some books to that young lady over there?"
"Huh?" he looked a little surprised, "What are the books?"
"They're teen fiction novels by Meg Cabot. This one is about a girl who finds out she is a princess."
"Don't all teenage girls think they are princesses?" sneered the woman next to him.
"I'm sorry," I said suddenly feeling horribly embarrassed and foolish. "I don't mean to be inappropriate or disturb your group."
"No, it's fine," the guy said, "it's just that these kids only read at a 2nd grade level so she probably won't be able to read them."
"Actually," said the sneery woman, "my daughters have read some of those books. They are really good."
With a nod of approval from the young teacher I nervously approached the girl and handed her the books. "These are really good." I said. "This one is about a girl who finds out she's a princess and these two are about girls with special powers. Just go slow with the words and sound them out if you have to. The stories are so good you won't mind."
I went back to my table and back to work, obsession lifted, while the girl quietly sounded out words from one of Meg Cabot's book. Five minutes later when the group left she stopped by my table to thank me, Princess in Waiting in hand.
My love affair for libraries, helped out by a desire to spread a little bit of Meg Cabotyness, just went to a new level.
The best thing about being a Meg Cabot fan is feeling all Meg Caboty. Mandy and Diana and all the other girls participating in the second annual Meg A Readers Blog hop know what I'm talking about. It's that warm, fun, cozy feeling you get from reading great books like The Princess Diaries and The Queen of Babble or how about her new book Awaken? But reading a Meg Cabot book is not the only thing that can make you feel all Meg Caboty. If you are anxiously waiting for Meg's latest book so you can feel all Meg Caboty try some of these things:
Write about Meg. Duh! That's what I'm doing right now and why I am participating in this second annual Meg-A-Readers blog hop. Writing about how much I love Meg Cabot and her books just makes me feel all…well…Meg Caboty!
Write some Meg Cabot fan fiction. Sometimes finishing a series of books can make you feel sad. I know I went through a small depression when I finished the last Princess Diaries book. Luckily I discovered the Meg Cabot fan forum around the same time and yep, I wrote a piece of Princess Diaries fan fiction. It helped saying goodbye to Mia and Michael and Tina and Lily a lot easier. It also made me feel very Meg Caboty!
Meet Meg in person. Even if you aren't a Meg Cabot fan, I highly recommend attending one of her public appearances. Meg Cabot is a fantastic speaker! She is funny and engaging and comes across exactly the way you expect her to be if you are a fan of her books. Just be careful and keep your Meg Caboty feelings in check otherwise you might start crying in front of her like I did.
Watch a Meg Cabot book trailer. Meg Cabot produces the best book trailers ever! Some of my favorites are these from the Runaway series. And whenever I need a pick-me-up I watch this one:
Follow Meg on Twitter. Meg doesn't just make promotional announcements on her Twitter feed. She also puts in fun things like quick thoughts on movies she just went to or what's she's doing for the weekend or …anything!

Tweets from Meg Cabot seem more real and sincere than the regular everyday Tweets you see from other celebrities and they make you feel all Meg Caboty!
Subscribe to the Meg Cabot Newsletter. In addition to seeing emails in your inbox FROM MEG CABOT you also get special surprises! Last year at Christmas Meg put out a special collection of short stories which she published in a free ebook for her fans. Honestly? That short story collection was my favorite Christmas gift last year. I saved it to read on Christmas day and I felt all Meg Caboty.
Read Meg's blog. Meg updates her blog about once a month, which if you are impatient like me is a long time to wait. But don't fret! Meg has 10 years worth of blog posts on her website that you can read anytime! It's a great way to feel Meg Caboty.
Listen to a Meg Cabot interview. There are some great Meg Cabot interviews out there! Just Google "Meg Cabot interview" and you'll find a ton.  Listening to them makes you feel like you're having a conversation with Meg yourself and that's just so Meg Caboty.
Strangely enough, my very favorite Meg Caboty thing has very little Meg in it. She did link to it in her blog years also which is how I found it and you can find her at 1:10 in the video. Still I think everyone would agree that the entire feeling of fun loving romance writers all together in one room, raising money for charity is a very Meg Caboty.
What do you do to feel all Meg Caboty? 
I'm still hand writing first drafts. It's working out well. I like the organic, Zen-like flow of words from pen to paper. I'm not sure what that means actually but it sounds good.
For thousands of years the only way people could write was by hand. Pen, stylus or pointy rock to paper, animal-hide or cave wall. It's the mind moving the hand to form words. Only in the past, 100 years or so, have people had regular access to keyboards to compose thought.
When I replied back to Neal on my last post it got me thinking more about my own progression to writing on a computer. I did not get a computer until my last year in college, which was the late 80s. Even then, I still handwrote the first drafts of my papers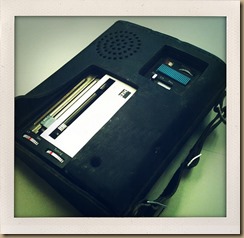 and then typed them in, editing as I went. After that when I started working full time it was several years before I had a computer at my desk and even used a computer all day.
In the first law firm I worked at only secretaries and word processors had computers at their desk. Also one of the paralegals who doubled as the firm's IT guy. The rest of us had to dictate our work like the attorneys. I used to index documents and summarize depositions by speaking into a Dictaphone. It was strange and intimidating for me especially when I had to hand the finished tape to surely a word processor to be transcribed.
I didn't get a computer at my desk until 1995 when I started working at a different firm. During that point of the interview when the managing attorney said, "Do you have any questions?" I asked if the paralegals were allowed to have computers at their desk and I'm pretty sure that's what got me the job. Thus my business writing directly to a computer began.
I still did personal writing by hand. It wasn't until 2002 did I ever consider keeping my journal on a computer or typing first drafts directly. What changed in 2002? Why this is when I met Jerry and he got me my first laptop!
I didn't even think about it at first. I just started typing. I liked the tap-tapping noise my typing made on the keyboard; it sounded like words. At lunch I used to sit in my car with that laptop and work on short stories just because I could.
Eventually the newness of it all wore off and distractions crept in. The big one? The Internet! And therein lies my reason to continue to hand writing first drafts. No internet! Sitting at my desk with just a pen and a piece of paper and no Facebook to update or Twitter feeds to check or blogs to read keeps my thoughts focused and hand moving.
No distractions…except Jerry telling me, "Hey, as long as you're up why don't we get into work early?" Because the computer is not turned on, so I can't be doing anything important, right?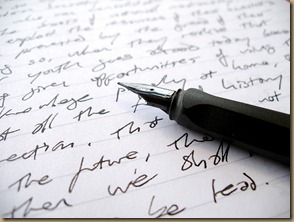 Photo ©Phyl Gyford creative commons license
I've been having a helluva time writing lately. Even composing emails at work is painful.
I finally decided it was the computer's fault. I wrote the draft of this post sitting at the table putting words on paper. Words came out through my hands, moving the pen instead of on the computer screen and ah-ha! Something finally started happening.
As I've suspected for a long time now. I'm one of those people who needs to practice pen to paper writing from time to time. Hopefully it's not a permanent thing because I do love that tap-tapping sound writing on the keyboard makes. Not only that but good god, if Jerry knew that a simple piece of paper and a crappy pen from the dollar store proved a better source of creative inspiration than the multitude of electronic gadgets he's bought me over the years I'm dead.
Any writers reading this right now? Do you like to sit down with old fashioned pen and paper or can you write exclusively on a keyboard?
I had the best conversation with Jerry the other night:
Jerry: How about chili for dinner? We have a can in the pantry. We can heat that up and have it over rice.
Me: Sounds good. Want to add a can of corn as well?
Jerry: No!
Me: Why not? You like corn. We have tons and it should make for a nice hearty chili.
Jerry: No! I hate corn in chili.
Me: You hate corn in chili? We've been married for 10 years and I had no idea.
Jerry: Well now you know.
Me: You hate it when they put corn in the chili!
Unless you are a Meg Cabot fan and have read The Princess Diaries this conversation will baffle you as much as it did Jerry. For me, it made my day!
Every few months my favorite author Meg Cabot has a short story contest on her fan forums. Every time she announces a new contest I check it out and think, that sounds like fun, I should participate. And then I never do because I talk myself out of it using excuses like, I won't be able to come up with a good idea or this is supposed to be for teens, I'm too old, dumb, busy etc.
This time I put my excuses on hold and decided to accept Meg Cabot's challenge to write a short short story (1000 words or less) on the theme of Valentine's Day. I told myself I was working on a "special project" assigned by Meg Cabot that I HAD to finish. It's screwed-up weird-ass fan-girl logic but at least it worked.
It's the story of a girl named Marissa told through online chats she has with her best friend, Brandon and two other boys from her school. It may be dumb, it may fall flat and it is virtually buried by tons of fabulous short shorts written by talented teenagers on the Meg Cabot fan forums, but writing it was the most fun I've had in a long time:
hi_its_issa
I hate Valentine's Day.
bran_man
Hi Marissa. Lemme guess. This has something to do with the rose you found in your locker.
hi_its_issa
You know me so well Brandon.
bran_man
Being friends since kindergarten has that affect on me. What's wrong with the rose anyway? I thought girls went for that stuff.
hi_its_issa
Roses are fine I guess. But it's one of those roses the cheerleaders were selling for their monthly fundraiser. I hate the idea of supporting those rah-rahs.
bran_man
Aw come on, can't the rah-rahs have a little fun?
hi_its_issa
OK you're right, it's not really that. My problem is the card has some message on it and isn't signed. I've been going crazy all day trying to figure out who sent it.
bran_man
A secret admirer!
hi_its_issa
I was thinking maybe it was Brian. He'd want to buy a rose right? You know, to support the cheerleaders?
bran_man
That jock? Getting a Valentine's rose for you?
hi_its_issa
Gee thanks.
bran_man
Nothing against you of course. It's just that…I didn't think he'd be your type is all.
hi_its_issa
Brandon, he's HOT! Have you SEEN his butt in those tight football pants?
bran_man
I gotta go.

hi_its_issa
Hi Brian, you there?
bribo
Hey Marissa! What's up?
hi_its_issa
Oh nothing. Just wondering if you saw anyone near my locker this afternoon. You know…with a rose?
bribo
Nope. Hey did you see that running play today at practice where I took the snap and fake trap to the fullback?
hi_it_issa
Um, no can't say I did.
bribo
Oh. Well I've been chatting with Dave about it all afternoon. He was pretty impressed. I can't wait for our game tomorrow night. You coming?
hi_its_issa
Not sure yet. Probably. Oh hey I hear my mom calling. Gotta go! Talk to you later!

hi_its_isssa
Brandon, you there? You're right. Brian is so not my type.
bran_man
hahahahaha!
hi_its_issa
Maybe it was Dave who left the rose?
bran_man
That guy who hangs out with Brian?
hi_its_issa
Yeah, he's pretty cute!
bran_man
Again, nothing against you, but I never saw him with you. Or any girl for that matter.
hi_its_issa
Why not? He's really nice and thoughtful and all the girls love to hang out with him. I feel totally comfortable asking him.

hi_its_issa
Hey Dave!
daver
Hi Marissa! OMG, I loved that sweater you wore to school today. Totally cute! Where did you get it?
hi_its_issa
I got it on sale at Forever 21. I don't think they sell guys clothes there though.
daver
Oh too bad.
hi_its_issa
So how's your Valentines Day going so far?
daver
Great! You know those roses the cheerleaders were selling?
hi_its-issa
You bet I do!
daver
Well, I bought one for someone and left it in their locker.
hi_its-issa
REALLY??? And who's locker might that be???
daver
Well….I'm kinda shy about this….but I guess you'll find out about it eventually.
hi_its_issa
Oh Dave. I already know. You're SO SWEET!
daver
Aw! Who told you? What did he think?
hi_its_issa
He? Wait…what are you talking about? Didn't you leave a rose in my locker?
daver
YOUR locker? Um no. Sorry Marissa I think you're really nice and all but you're not really my type. I left a rose for Brian. Didn't you know that we're both….well…not really into girls?
hi_its_issa
Oh…yes…of course I knew. I think it's great! I'm sure you and Brian will make a cute couple.
daver
There he is now! Gotta go!

hi_its_issa
OK, I totally know it wasn't Dave now. OR Brian. That's confirmed.
bran_man
hahahaha! I tried to tell you.
hi_its_issa
I just wish I knew who gave this to me. Did I mention the note attached? It's red but looks like kind of a blob, not heart shaped at all.
bran_man
Well, around Valentine's Day it's easy to remember that the heart is actually shaped like a fist.
hi_its_issa
Hey, that's what it says on the card! Wait a minute…Brandon was it you???
bran_man
Happy Valentine's Day Marissa! I know we've been friends for a long time but lately I've notice that my hands form a fist when you start talking about other guys.
hi_its_issa
Brandon I had no idea! And I'm so glad! The only reason why I talk about other guys is because I thought you didn't have romantic feelings for me either. Maybe we should get off IM and see what happens between us in person?
bran_man
Sounds like a great idea! See you in a few minutes.
hi_its_issa
[Account signed off. Auto reply from hi_its_issa: Sorry I can't chat right now. I'm busy celebrating Valentine's Day!]
bran_man
[Account signed off. Auto reply from bran_man: Do not disturb. MAKE OUT TIME!]
The House. The House. The House. THE HOUSE.  Sorry I haven't blogged in so long but I'm a little preoccupied these days and all my creative energy has been sucked up by THE HOUSE!
Anyone who owns a house knows that the responsibility can be overwhelming.  Suddenly you are responsible for the maintenance and upkeep of a whole entire building.  Put that building in another state, 240 miles away, add some peeling stucco, a faulty staircase and a multitude of other annoying problems and you get some major stress. 
In the past 6 months I've experienced a level of anxiety I haven't seen since 1995 when I worked at a law firm that represented clients being sued by dying AIDS patients. 
People have been telling me I should write about it, to help get it all out.  I've been telling myself the same thing.  But seriously, will writing about new stucco really help?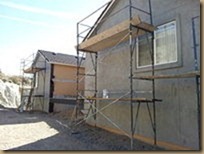 Does anyone really care about the week of sleep I lost when Jerry and I decided at the last minute to forgo white trim we had studied carefully in all shades of light on specially made stucco samples for a color we chose off the chart the night before it went up?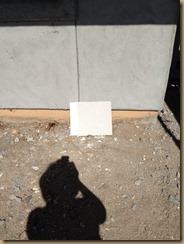 It was called FEATHERLY and it ended up being a great move.  The new stucco on the house, with dark trim around the doors and window, is beautiful.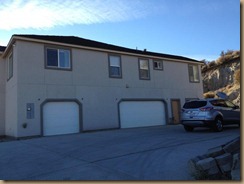 Next on deck is a deck.  
For some reason the blue moon we had last night fascinated me. Friday morning while I was thinking about it I pulled out my iPhone and fired up my Ladytimer app and voila!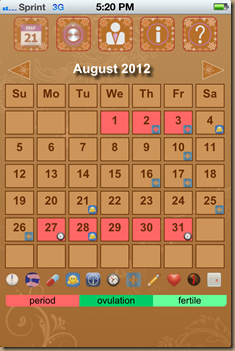 Not only did August have two full moons but I also got my period twice this month! I did some more looking back and saw that my menstrual cycle follows the lunar cycle pretty closely.
I'm sure I'm not the only woman who had made this same discovery but it sure did make me feel special! It reminded me that I am in fact connected to this earth. And for some reason that confirmed to me that I am in fact on the right path, which is something I've been fretting about lately, what with buying that new house which seems to have a new problem with it every time we go up there.
Don't worry, I haven't lost it yet. If anything this revelation has helped calm me down.
Excuse me now while I construct a red tent in the backyard.