I hate shopping for clothes. I wistfully remember the days when I was young and thin and shopping was fun and inspiring, hampered only by a lack of funds. Now, a couple of decades and a few sizes later, entering the mall and picking out clothes is a frustrating and self-depreciating experience. However thanks to the little miracle I just discovered I may never visit the mall again. That miracle is Stitch Fix.
Stitch Fix is an online clothing store that does the shopping for you. Seriously! Here's how it works:
You go to the website and fill out a profile with information about your age, size, lifestyle and fashion. The profile is pretty thorough with all sorts of questions about your color and style preferences. You can even give them a link to your Pinterest board with photos of the types of styles you like.
Armed with this crucial information, Stitch Fix then assigns you a stylist who specially chooses five articles of clothing and mails them to you to try on. The clothes you like you keep and pay for and the ones you don't like you send back. Cost of this service is $20, which gets applied to the price of the clothes.
I signed up for the service back in February when I heard about it and due to Stitch Fix's increasing popularity, had to wait an agonizing five weeks for my order to arrive which it finally did last Friday.
When I got home I was surprised to see how small the box was. Earlier in the day I peeked at my account so I knew they sent me a pair of pants, a top, a cardigan, a scarf and a whole dress. How could it all fit in there?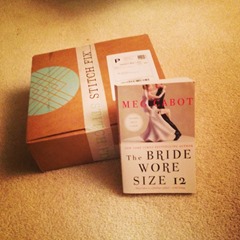 Here it is next to a standard sized Meg Cabot paperback.
Note: I tried to get a photo next to Mrs. B for perspective (the box was smaller than a 13 pound cat) but she wasn't having any of that.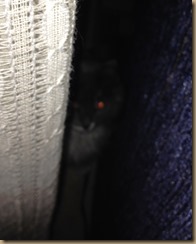 Come near me with that box and I will annihilate you with my laser eyes.
With Mrs. B and her hair safely hidden behind the sofa I proceeded to open my box and try on my new clothes. In addition to 5 pieces of clothing you also get an envelope to send back the items you don't want to keep, cards with suggestions on to style your new clothes and a note from the stylist who put your order together.
Here's what my stylist Christina picked out for me:
41 Hawthorn Stacey Lightweight Leopard Print Infinity Scarf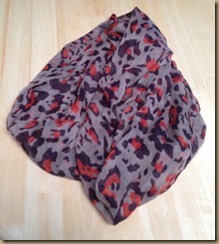 Christina clearly looked at my Pinterest page because it is full of leopard accessories. Nobody loves a leopard scarf more than me and I have plenty in my closet to prove it. So while I don't really need this scarf I'm still going to keep it since it will be a good replacement for the one I got at Target last week that turned out to be too itchy. It was $32 which is the absolute most I would ever spend on a scarf.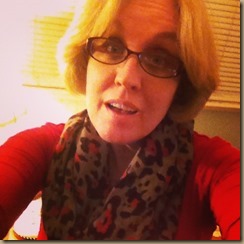 Margaret M Emer Brocade Print High Waisted Cropped Pants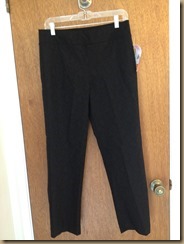 One of the things I was hoping StitchFix could help me with was picking out items to get me out of my comfort zone. These pants are a perfect example of that. I thought for sure when I tried them on they would be a "no way" and was pleasantly surprised when they weren't. The fit is a little snug but the result is pretty flattering. I think the secret is this: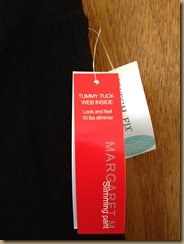 At $98 these pants are not cheap but they go with a lot of things I already own and are comfortable as all get out. Here's hoping my decision to keep them is a good one!
Pomelo Downing Striped Knit Shirt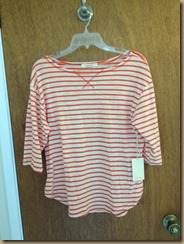 Here's another example of something I would never pick out for myself. I'm horrible at finding cute tops. I tend to stick with collared button ups and turtle necks. It's boring. When I saw this my first thought was "Huh? This is way too casual for work." But Christina assured me in her note that it was "super chic and comfy." She advised me to pair it with my new infinity scarf and slacks so I did and guess what? It looks great!
The fabric is a little thin, making me cringe a bit at the price of $44 but like the pants I think this will get a lot of wear so I'm going to keep it.
Mak Jaclynn 3/4sleeve Button-Up Cardigan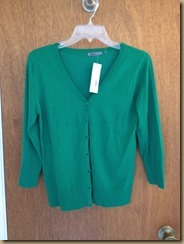 I love cardigans and have about 10 in my closet already. The catch? They're all black. Thank god Christina sent me this one. The color is spot on and so is the price at $32. I can see myself wearing this at least once a week. In fact I think I'll wear it tomorrow when I stop off at the Good Will donation bin with a bag full of black cardigans. Sold!
41Hawthorn Farah Fit and Flare Striped Dress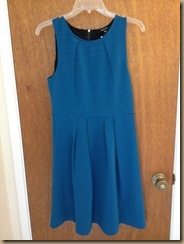 I had high hopes for this dress when I pulled it out of the box. I loved the color, I loved the fabric and $68 seemed like a good price. In fact I figured it would be a no-brainer and saved trying it on for last. Unfortunately it was too small. Even in a bigger size I suspect the fit of this dress would not work for me though. The pleats were too poofy and the waist was too high. Therefore, this dress is going back.
Overall I am very pleased with my StitchFix experience and am looking forward to ordering from them again. If you are interested in doing the same check out their website.
I get a $25 credit if you place an order using my link:   StitchFix