If you're keeping track, the big Royal Wedding is still 38 days away. I know. It's a long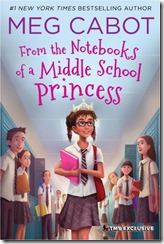 time to wait to catch up with Mia and Michael and Grandmère. There's also supposed to be a bunch of fun storylines including  the discovery of Mia's long lost half sister. But guess what? Next month you can meet said sister, Olivia Grace, in Meg Cabot's newest middle grade novel, From the Notebooks of a Middle School Princess.
By some strange and wonderful miracle Meg Cabot's publisher, Feiwel and Friends sent me an advanced reader's copy of the book so I'm thrilled to give you my review early! (Which by the way, is my own opinion and is no way influenced by the fact that I got the book for free.)
In a lot of ways I was more excited about Middle School Princess than Royal Wedding. I have a special affection for middle grade fiction and I was also fascinated with the teased storyline of Mia's long lost sister and was anxious to meet her. A part of me was expecting a rehash of the original books and I was pleasantly surprised to find that this was not the case.
Like Mia, Olivia also keeps a diary which is how the story is told. Otherwise, the two sisters are not very much alike. The biggest difference is that Olivia is nowhere near as neurotic as Mia. She takes everything in stride and seems to have a good head on her shoulders. Unlike Mia, Olivia does not have a complete meltdown when she finds out she's a princess. In fact, she is more concerned about meeting her father for the first time. While there are plenty of new characters we also get to see some of our old friends including Mia, Grandmère and Mia's (and Olivia's) dad, Prince Phillipe. I enjoyed this aspect of the book very much, especially that they were from a different perspective, Olivia's point of view.
I found this book extremely tender and….oh gosh I'm embarrassed to admit…I even cried at one point. It was this quote:
I'd wave to my mom in heaven out the window, but I don't want anyone to see me and ask who I'm waving to and then think I'm being weird, waving to the angel of my mom.
I believe there will be more book in this series and I absolutely can't wait for them! I give this a Relaxed Mrs. B.