Like many of her devoted fans, my first introduction to Meg Cabot was The Princess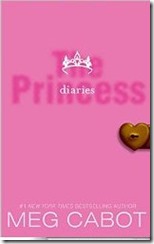 Diaries. I read the series several years ago and oh my what a joy! I've been looking forward to reading the series again and the anticipation of book 11, Royal Wedding which releases on June 2, 2015 seemed like the perfect opportunity.
Just like the first time, my second read of The Princess Diaries did not disappoint. Written in the first person, the book is the diary of high school freshman Mia Thermopolis. Starting on September 23 we find that it is the first few weeks into the school year of New York City's Albert Einstein High School and Mia has a big problem: Algebra. She is not only flunking the class but she has just learned that her mother is dating the teacher, Mr. Gianni.
As if the Algebra problem isn't enough, Mia then finds out that her father has been keeping a very important secret from her: he is the Prince of a small European country, Genovia and as his sole heir Mia is a Princess who is one day expected to take over the reign.
Finding out that you are a princess sounds like every girl's dream, but Mia is smart enough to see past the glamour and money. Being the ruler of an entire country sounds like a horribly stressful proposition!
Despite the seriousness of the matter, the tale of Mia's first month of royalty is delightful and funny. As she struggles with this new identity Mia finds out who her true friends are and also meets a few new ones.
While Meg Cabot wrote several great books before this, The Princess Diaries which was published in 2000 is truly her best work. In all of Meg Cabot's books you can tell there is a little piece of herself in the main characters but Mia and her friends have a little something else that makes them very special. I'm not sure what it is but maybe in this next read I'll find out.
If you are looking for a fun teen read, or want to find out what I find so special about Meg Cabot, please do read The Princess Diaries. I'm sure it's no secret that I give this one a full fledged Shrimp Coma Mrs. B.