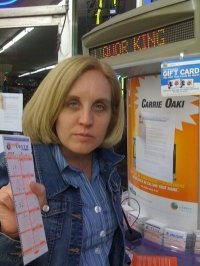 Who is this woman?
My name is Karen Jessop, paralegal, wife, laundress and cat mom.  When I'm not working at my in-house paralegal job on the Penninsula, I'm home watching TV or reading voraciously.
I write because I like the tap-tapping sound of typing on the keyboard.  Also it's the only thing that can lure my soul from the dementors of the corporate world.  I started this blog after my husband Jerry bought me the domain and a new laptop.  It was his way of saying "I love you.  I believe in you.  Now get out of my hair."
I hope you enjoy reading what I have to say and welcome your comments.  If you would like to contact me direct, please send an email to theladyjessop at gmail dot com.
Disclosure:  Musings of the Lady Jessop is a participant in the Amazon Services LLC Associates Program, an affiliate advertising program designed to provide a means for sites to earn advertising fees by advertising and linking to amazon.com.