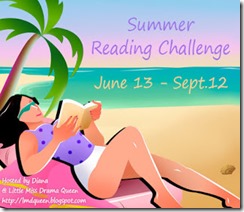 Ever since I finished my Princess Diaries binge read I've been feeling a little lost and disorganized in my reading choices. I keep asking myself "what next?" Getting no good answers, I end up grabbing something off my bookshelf that I give little or no attention to.
Last week I came across a summer reading challenge proposed by Diana at Little Miss Drama Queen. I've never participated in a reading challenge but in light of my need to focus my reading I decided this would be a good one to try. Diana has a list of 10 types of books to read by September 13, 2015. It's a pretty lofty goal for me but I'm willing to give it a shot.
Here are the books I've chosen:
1. A book recommended by a friend – Mindfulness In Plain English by Bhante Gunaratana
My friend Sue is always recommending books to me and they are usually good picks. She is currently reading Mindfulness In Plain English so I thought I'd give it a shot as well.
2. A book that has been sitting on your shelf for over a year – Educating Caroline by Meg Cabot
You didn't think I'd get by without listing a Meg Cabot book did you? Educating Caroline is one of her old regency romances that I still haven't read.
3. A book you read a long time ago and don't remember – Back Roads by Tawni O'Dell
I was concerned I wouldn't be able to find something for this category since I tend to have a good memory of the books I read. I was going to cheat and pick a book I really liked and wanted to read again. However, when I looked at my bookshelf I found Back Roads and realized it would fit the bill perfectly. I have a vague recollection reading this book and do remember the snarky tone of the narrator. But for the life of me, I can't remember what the heck the book is about. The synopsis seems interesting so I'm looking forward to the (re)-read.
4. A book from your to be read list – Shrinkage by Bryan Bishop
I've been wanting to read this book ever since I heard about it on the Adam Carolla podcast.
5. A book you never heard of – Hello I Love You by Katie M. Stout
So much to choose from for this category! In order to avoid getting overwhelmed I decided to be quick and choose the first book that grabbed my attention. The premise of this one did the trick: a super rich girl runs away to boarding school and falls in love with a Korean rock star. MJ at Howdy YAL, where I first saw the book, gave it a "meh" review, as did others as I found out, but I'm going to go for it anyway.
I'm embarrassed to admit how many classics I have not read. This is one of them.
7. A book you started but never finished – Work as a Spiritual Practice by Lewis Richmond
I enjoyed this book when I first started it years ago and have been wanting to finish it for a long time.
8. A new release – Reasons to Stay Alive by Matt Haig
I've been following Matt on Twitter for quite a while and have been wanting to read his memoir which came out earlier this year.
9. A book outside of your typical genre – A Good Marriage by Stephen King
Thrillers are typically not my thing, too stressful, but I've been wanting to try Stephen King for years so here goes!
10. A chunkster (400+ pages) – The Rebels by John Jakes
This is the next volume in the Kent Family Chronicles which has been on my list for a while. It's 467 pages so qualifies as a short chunkster. Shhhh! Don't tell anyone but I'm going to read the e-book version to save my wrists.
As you can see from the date on the banner I am already late with this challenge, eeeek! Time to get reading.