I first read The Kent Family Chronicles by John Jakes when I was in high school. Earlier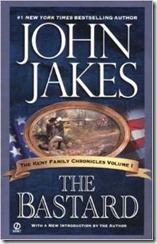 this year after Jerry and I watched Sons of Liberty on History Channel I got a hankering to read the first book in the series again so I ordered a copy of The Bastard.
The first thing that struck me when I got the book was the length. It's 528 pages. I can't imagine reading a book that long when I was 16 but I clearly did because much of the story came back to me the second time and I enjoyed it just as much, if not more.
The first half of the book takes place in Europe starting in 1770. Phillipe Charboneau, the main character, is 17 years old and learns that he is the illegitimate son of a nobleman and heir to his fortune. Unfortunately Phillipe's attempt to claim his father's money doesn't go over well with the rest of the family. They are a vengeful set so Phillipe changes his name to Philip Kent and travels to the American colonies. He lands in Boston in 1773, just in time to become involved with the rebel uprising that sparked the Revolutionary War.
In addition to having romantic relationships with large breasted women on both continents, Philip becomes acquainted with several historical figures including Benjamin Franklin, Samuel Adams and Paul Revere. Through his association with these people as well as dramatic events in his own life, Philip experiences significant historical events firsthand. He helps throw tea into Boston Harbor. He joins the militia and is one of the minute men during the retreat of the British at the Battle of Lexington.
The development of Philip's character is interesting. He seems more like a conduit to tell a story and after 500 pages I still did not feel like I "knew" him like I did the other people in the book like Anne Ware and Marie Charboneau. That said, Philip certainly does grow and mature in the 5 years that cover the story. Jakes also very cleverly parallels Philip's own character and inner struggles to the development of the colonies themselves. In fact, a thought that Philip has sums up the theme of the novel quite nicely and gets my award for favorite quote:
"…if America as a whole dared to seek what Sam Adams openly desired – total independency – she would be, in a sense, what he had been from the beginning: a bastard child thrust into a dangerous world alone and unprotected."
I enjoyed this book very much. While I do have some interest in the characters and their personal stories, I loved the tie in to American history and how it relates to the characters lives. I look forward to reading the rest of the series and can see myself keeping the books around so I can read them again. I give this a Shrimp Coma Mrs. B.